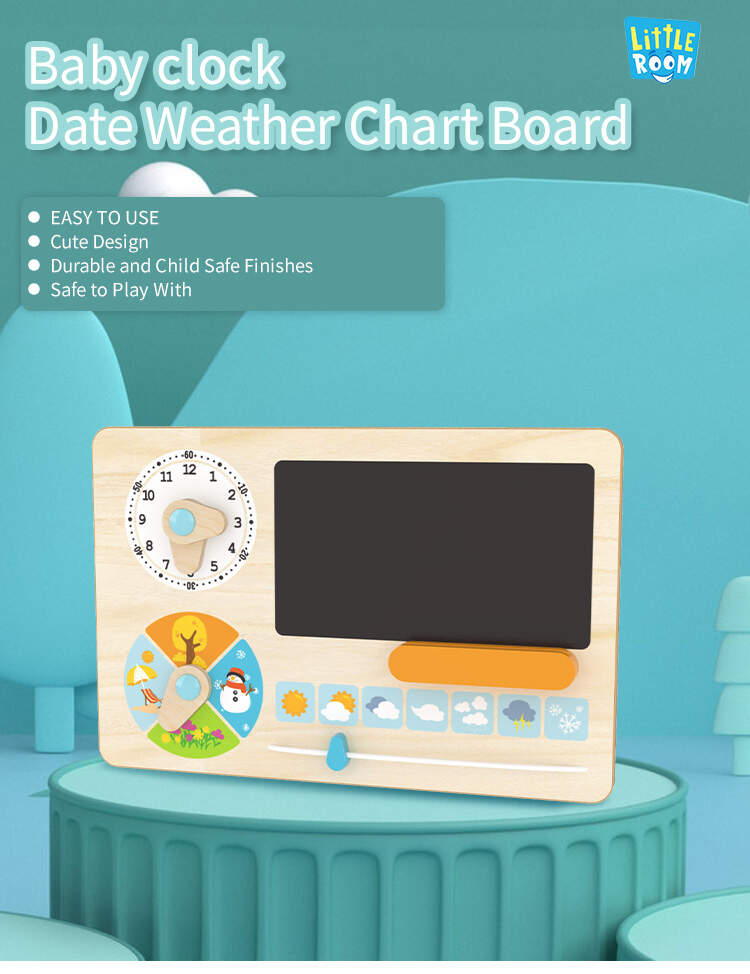 Bullet Points of children's educational wooden calendar clock toy:
The calendar can exercise children's cognitive and manual skills. It will help your child to understand important ideas such as telling the date, weather, season and with blackboard. It's nice education supplies & craft supplies.
VARIED FUNCTIONS:
It has all functions in one, clock, weather board, season board, and balckboard;
DEVELOP MULTIPLE SKILLS:
Cognitive Skills - It assists children in learning identify time, weather, seasons and learn how to process information, reason.
Language & Social Skills-Role playing requires kids to engage in storytelling as they make up scenarios and communicate with others about all the info they would like to express. Kids can learn the concepts of time, days, weather and seasons in a playful way by moving the bluesliders on the busy board. The clock dials will help kids in grasping how to read time, and understand the significance of punctuality at an early age.
Learning skills- Have them choose which piece of magic calendar fillers suits their daily calendar needs. This would help them engage in learning about days, develop their critical thinking skills, and improve observation.
Mixed skills-It develops learning skills, promotes communication, reasoning and logical thinking. The concept of grasping and moving the sliders the will foster a more visual and sensory relationship with numbers, date and time concepts.
Product Description:
Give your child the gift of relaxation and quiet time with this wooden calendar. With a natural wood finish, it adds warmth and comfort to your home or nursery. Let your child's imagination run wild and let them dream of delicious meals that are arranged every day. Full of love, our wooden calendars are the ideal gift for boys and girls. It is a lovely decoration for children's room or desk. With its simple, soothing design and colors, it's also great for calming your kids down when they need a break from electronics.
This calendar is a great addition to any kid's bedroom. Its large, colorful numbers make it easy for kids to read the date and temperature, while each square on the weatherboard is color-coded so your kids can easily tell when to put on a coat or pull out their rain boots. Add even more fun with interchangeable blocks that show what season it is, and keep your kids busy with their hands while they wait for the morning cartoon!
INTERACTIVE TOY:
All about today wooden busy board; kids toy calendar that teaches children in a playful manner. Includes clock, days, dates, weather and seasons. An ideal choice for preschool learning toys. Smart design, easy to carry.
PERFECT GIFT:
Perfect activities for young learners; Montessori kids, preschool graduation gifts, daycares, classrooms, schools, toddlers, birthday presents. Made with handcrafted durable wood wood and child-safe paints.
HIGH QUALITY ASSURANCE:
Made of sturdy wood, child safe materials and water-based paint and durable construction to make sure exceptionally safe.
OEM /ODM:
Private color, logos, packaging are all available;
Product description:
One magic board with clock, weather board, season board, and balckboard fuctions all in one, can be hanged on to wall, unique design pc for chalk storage.