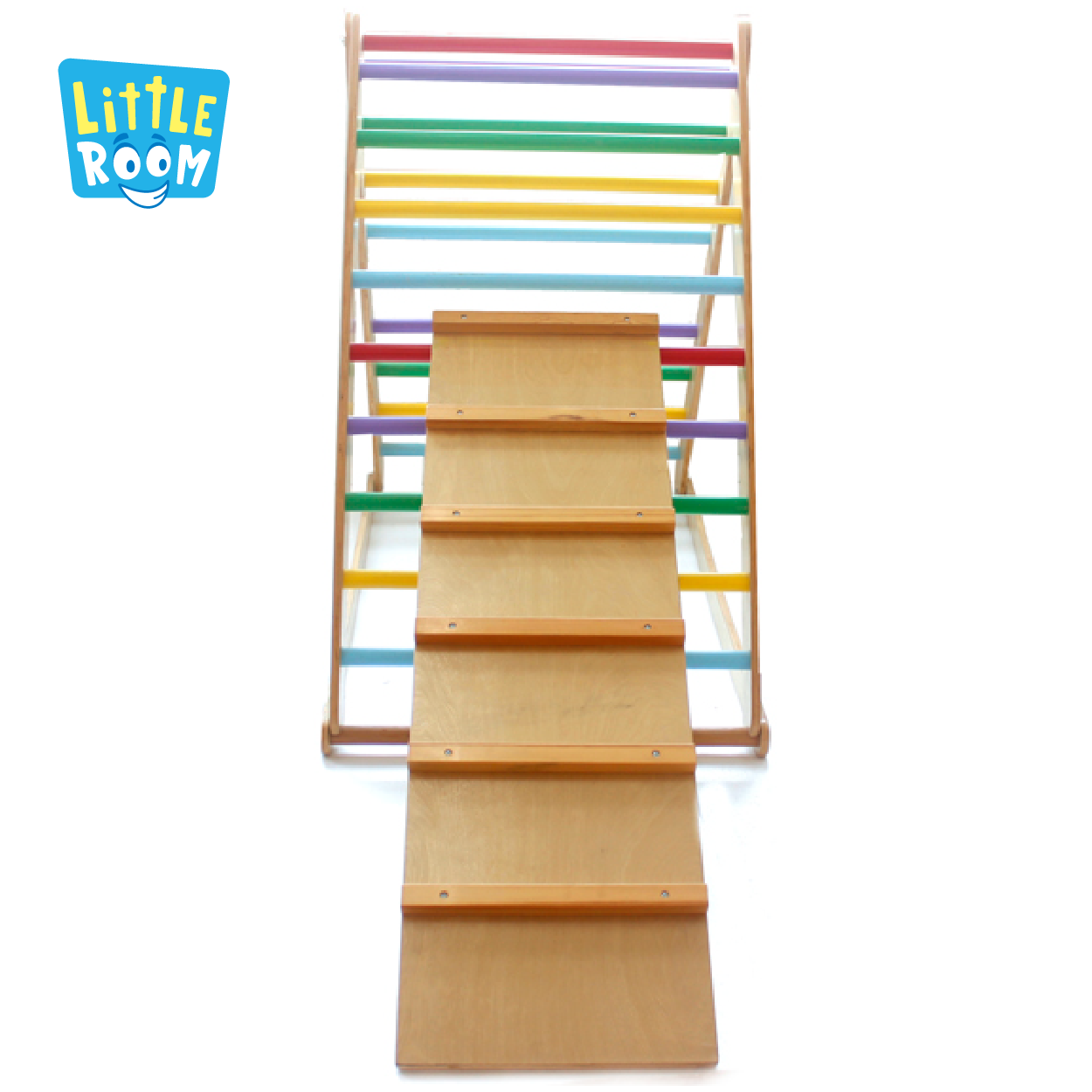 product description of multi function step ladder:
This rainbow-colored big triangle ladder is a great educational toy for kids. This ladder can be used for climbing and descending, promoting the development of a child's sense of balance and coordination. The ladders are colorful and make climbing fun and safe. This large triangular ladder is made of high-quality wood material, durable, non-toxic and odorless. Bright colors attract children's attention and interest. A great gift for your lovely child or friend!
A colorful kids toy is a great toy that can provide fun for your kids. All you need to do is place the ladder on the floor and give your child some pillows so they can go up and down freely. A colorful kids toy is a great toy that can provide fun for your kids. All you need to do is place the ladder on the floor and give your child some pillows so they can go up and down freely. The colored ladder is made of high quality plastic, which is safe and durable. This ladder is a must-have for most kids' bedrooms or playrooms! The rainbow colored triangle ladder helps your child develop imagination and creativity, build your child's brain, especially the role of color differentiation. Have fun for the kids!
Bullet Points of multi function step ladder :
DEVELOP MULTIPLE SKILLS:
SocialSkills – This great tree table allows for hours of play which actively develops children's social skills.
ActiveSkills – Develop kids' climbing ability. Enhance self-confidence and exercise hand-foot coordination, physical fitness and balance ability. In addition, there is no fixed way to play, your child can discover how to play and cultivate creativity.
Language & Social Skills-Role playing requires kids to engage in storytelling as they make up scenarios and communicate with others about all the info they would like to express. Kids can learn the concepts of time, days, weather and seasons in a playful way by moving the bluesliders on the busy board. The clock dials will help kids in grasping how to read time, and understand the significance of punctuality at an early age.
Learning skills- Have them choose which piece of magic calendar fillers suits their daily calendar needs. This would help them engage in learning about days, develop their critical thinking skills, and improve observation.
Other Mutiple skills- It stimulates the vestibular system, which is of great importance for general development and learning. It supports the muscles responsible for the correct posture develops the sense of balance. Designed to improve children's sense of balance. It is effective in improving the coordination between the left and right hemispheres of the brain and the ability to concentrate.
Easy to & Clean:
According to the user's manual, it can be quickly assembled and convenient to use. The smooth and waterproof surface makes it easy to clean, and stains can be easily removed with a damp cloth.
Perfect Gift for Children:
This is a perfect gift for your child. This climber can not only strengthen children's motor skills and balance control, but also help children to improve their courage. Its different difficulty levels are suitable for children of different ages and accompany their growth.
HIGH QUALITY ASSURANCE:
The climbing triangle ladder is made of high-quality pine and the natural material is very strong and durable. The surface is coated with non-toxic varnish, which meets the use standard of children's products and protect children's health. The edge of the climbing toys is polished, and every corner is very smooth and free of burrs, so that children can play more comfortably.
【OEM /ODM】: OEM Logo is available.
FSC is available as well.
Product description:
Can be used inside or outdoors in dry weather.