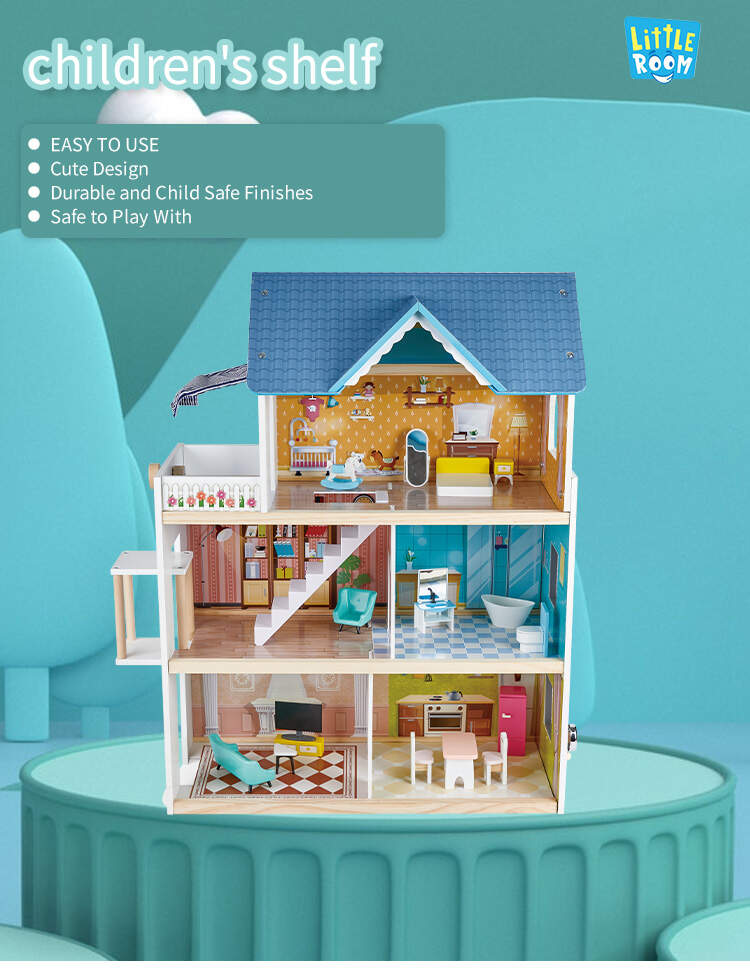 Product introduction of Miniature Dollhouse Accessories:
A classic wooden toy, it is very suitable for your children to learn things through hands-on games. Our wooden toy house will bring back the good memories of childhood. The Dollhouse is made of solid wood and can be easily assembled according to step-by-step instructions. It has a wooden roof with an attic hatch for extra toys. The doll house is equipped with many items. This wooden toy house is a perfect complement to any children's bedroom and a good way to stimulate children's imagination. With four floors, nine rooms, a spacious living room and a work light that can be turned on at the touch of a button, it will surely provide hours of fun for children aged 3 and above.
For more than a century, it has been the children's favorite toy. The wooden toy house is as lovely today as it used to be. The wooden toy house is made of child friendly unpainted wood. There is no risk of painting on your child's hands. This is the safest choice for them to create their own world. Equipped with a fully equipped kitchen and living room with working doors and windows, it is very suitable for imaginative games or displaying your own baby. Our wooden Dollhouse is large enough for their toys to adapt and maintain their imagination,
Product advantages:
this beautiful wooden toy house is very suitable for children's imagination and game time. It is equipped with various accessories to help bring their fantasy home into life. This wooden toy house is durable and has enough space for your children to have fun and create their own adventures! The wooden doll house is a great toy. It's fun to play and helps to foster social interaction between children and their parents.
Fully assembled, ready to play. This delightful toy house is an important part of every child's play time. With its high-quality, durable structure and easy access to the interior of the house, children can enjoy this multifunctional furniture in the coming years. The wooden doll house is the creative amusement center and storage box for your child's doll family. This is the perfect gift for toddlers or preschoolers. Your child can use their imagination to create different scenes about their family, friends and pets living in the house. The role of children at home is to explore, experience and express emotions. This wooden doll house will give your children a chance to use their imagination. Make every day unforgettable and add more fun to your child's life with this charming product they will like!
Bullet Points:

A COZY DREAM HOUSE:Most children dream of a doll house of their own. This wonderful doll house family mansion is as realistic as it gets. This perfect playset includes a master bedroom, a children's room, a study room, a living room, a bathroom, a balconies, a dining room, an elevator.

DESIGN YOUR OWN HOME:Let child's creativity flourish with a kit of 15 furniture pieces. Design a pretty kitchen or a cozy bedroom for dolls.

TIMELESS TOY:Combine with other Doll House & Furniture sets to enrich the play experience. Acting out doll family's daily routines will spark creativity and rouse children's imaginations.

FULLY FURNISHED:The house has unique home furnishings and household appliances that are easy to move and arranged as what kids' like.

DURABILITY:This kids wooden dolls house has solid wood construction and has a child safe paint finish

OEM /ODM:Private color, new design, OEM/ODM packaging are all available;
Product description of Miniature Dollhouse Accessories:

Perfect Dollhouse

The furnished Dollhouse provides inspiration for your child to role-play and imagine various domestic situations. Featuring three different levels with an open face style, the doll house offers a wide variety of ways to play from the front, back, sides, and even top.

This Dollhouse is as realistic as it gets. It includes a master bedroom, a children's room, a study room, a living room, a bathroom, a balconies, a dining room, an elevator.

The Dollhouse features fifteen doll furniture sets. The dolls can rest well in the bed, clean up in the bathtub or enjoy the relaxed time in the study room.

Bell to ring up host, light can turn on and office, windows can be open or close… good experience for the real life.

Furniture and Household Appliances

The Dollhouse moving parts allow children to arrange the household appliances in any way they like. Uniquely shaped rooms offer realistic appeal and moving parts encouraging interaction, and access to the 'outside' as well.

Durable, Water Based Paint

The durable, child-safe paint finish and sturdy wood construction make this a toy that your child will love for years to come.

Important Information:

Suitable for 36 months and up.