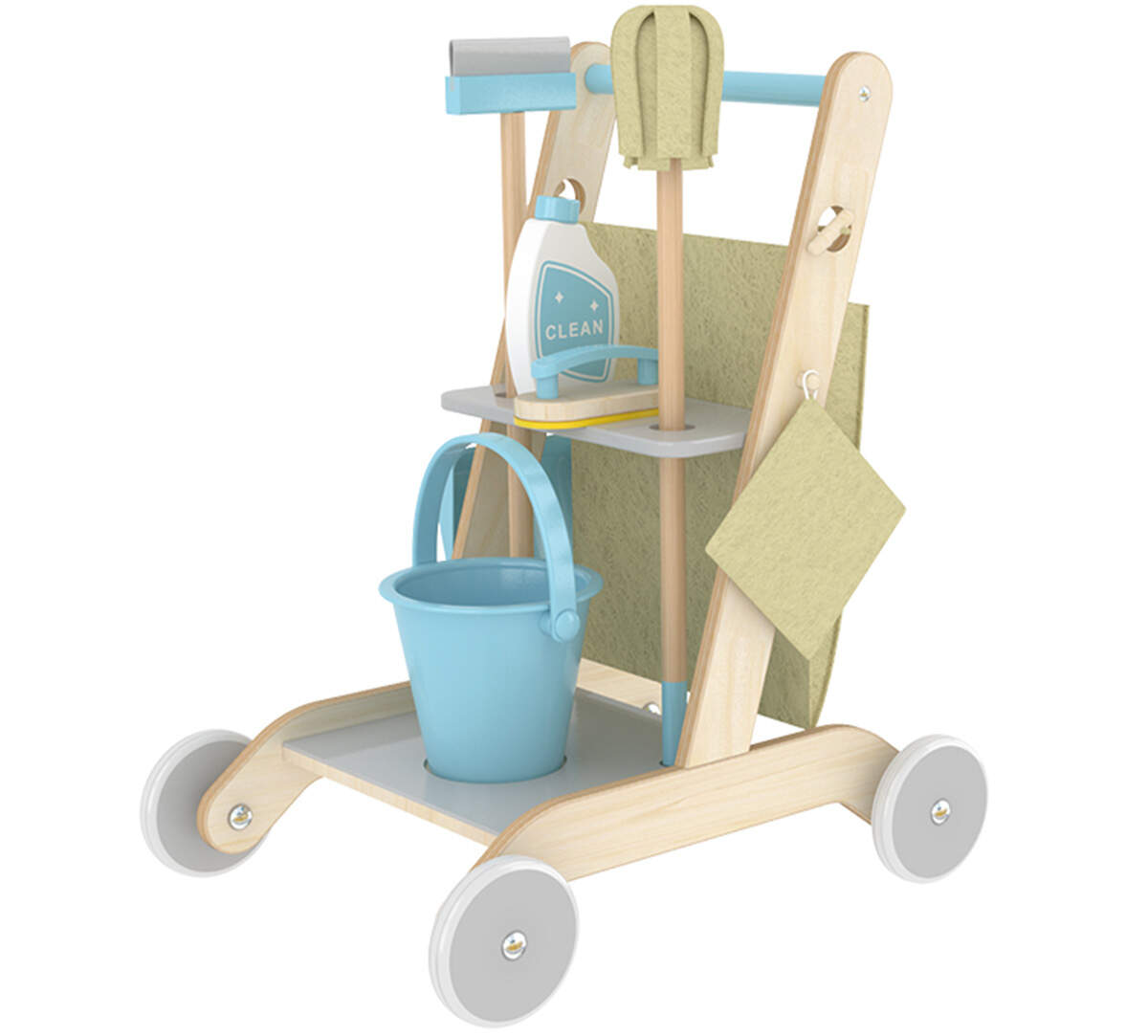 Product introduction of children's toys cleaning tools stand:
Our wooden cleaning trolleys are made of sustainable acacia wood and are reliable sources, making cleaning an interesting adventure and household chores more interesting. It is designed as a stem toy to encourage children to exercise, while helping to develop fine motor skills and encourage creativity. Children like to play with wooden trolleys alone or with adults.
We know that children like their toys, but when they lose control, they can be dangerous. This is why we developed wooden cleaning trolleys. A fun and innovative way to help your child learn to take responsibility. It encourages your child to stand up and move around, and develops coordination skills. Your child will like to play with this toy by himself or with you.
Product advantages:
This wooden cleaning trolley has been developed with a focus on safety, combining the aesthetics of exquisite design with the practicality of cleaning the home. Each part of the cart is made of solid wood without sharp edges - which means you can clean it without harming yourself or your child.
Unparalleled beauty and creativity:
This is a cleaning toy for cleaning dirt, but we refuse monotonous color, rigid design and non creative cooperation. This is the children's own cleaning toy set. Each gadget has a unique design. The shape is round and not stiff. The rich combination of accessories allows the baby to enjoy the fun of hands-on ability.
Product features of children's toys:
Wooden cleaning trolley is a simple, practical and super cute toy trolley. This product is made of environmentally friendly plywood, so it is very safe for children. There are wheels on both sides of the handle, which can be easily moved back and forth. This can help children learn their coordination skills and develop their physical strength at an early age.
1. light weight, easy to carry and store 2 Made of environmentally friendly materials 3 It not only provides hours of fun for children, but also helps to improve their imagination, intelligence and creativity
Bullet Points:
Children's cleaning set is a great gift for birthday and holidays for 3-6 years old boys & girls. It is a great gift for encouraging screen free, hands on, and open ended play. Kids broom set can be used for realistic functionality and be able to clean their kids room.
It is good for kids to develop confidence and responsibility in a playful way. As a Stem toy, it develops fine motor skills, encourages kids to get up and moving, and helps foster creativity and imagination. Kids love playing house independently or using this set alongside adults.
This skill-building and confidence-boosting set is designed to strengthen and embolden your child's sense of purpose. Each pretend play tool helps them develop coordination and fine motor skills. Comes in "Frustration-free packaging," intended to be easier to open and reduce waste.
Product description:
This kid cleaning set is originally designed for children to pretend play housekeeping and develop a good habit of keeping house clean. The broom, mop, duster, dustpan, and hand brush are comfortable to use and easy to store.
All of the pieces have hanging loops to store the pieces on the wooden upright stand, making it easy to clean up after clean up.
It is perfect birthday gift and Christmas Gift.
Safety Material
Nothing Beats the Quality of Wooden Toys Wooden toys don't break even if your child is a particularly enthusiastic duster, and they don't crack if you accidentally step on them. The broom and scrub brush feature real bristles, and the rag and removable mopping cloth are soft, washable, and actually scrub-worthy!
Each part is made of high-quality solid wood, has no barbs, does not hurt hands, and takes care of children's safety and health.
Product design:
This wooden cleaning trolley is designed for children to learn and play. Toys are neatly placed in a special place. It's fun for children to do all this by themselves. This is also a good tool for parents. Children can help put away their toys at the end of each game, which will develop their organizational, cleaning and self-help skills at an early stage.
Children's toy wooden cleaning trolley is a very efficient children's toy, which can be used as a cleaning cart or shopping cart with wheels. It is made of high-quality plastic, soft and safe. The wooden cleaning trolley aims to cultivate children's intelligence and increase their imagination. With this toy, you can turn your child from an ordinary child into a smart child!
Fun and excitement:
Fun and excitement for your child with this wooden cleaning cart. Its design is similar to a real trolley, with work wheels and pull-down handles. The suitcase has a rotatable side that can be opened into the shape of a cart. With its wooden structure, it is strong enough to be carried by small hands when fully assembled. In addition to helping your child develop their fine motor skills, they can also use their new toys to prepare for the upcoming holiday!
This wooden cleaning trolley is the perfect complement to any home. It has a strong structure and is very suitable for indoor and outdoor use. The combination of natural wood and classic design provides a pleasant look and feel, while its easy to roll plastic wheel allows easy movement on any surface.