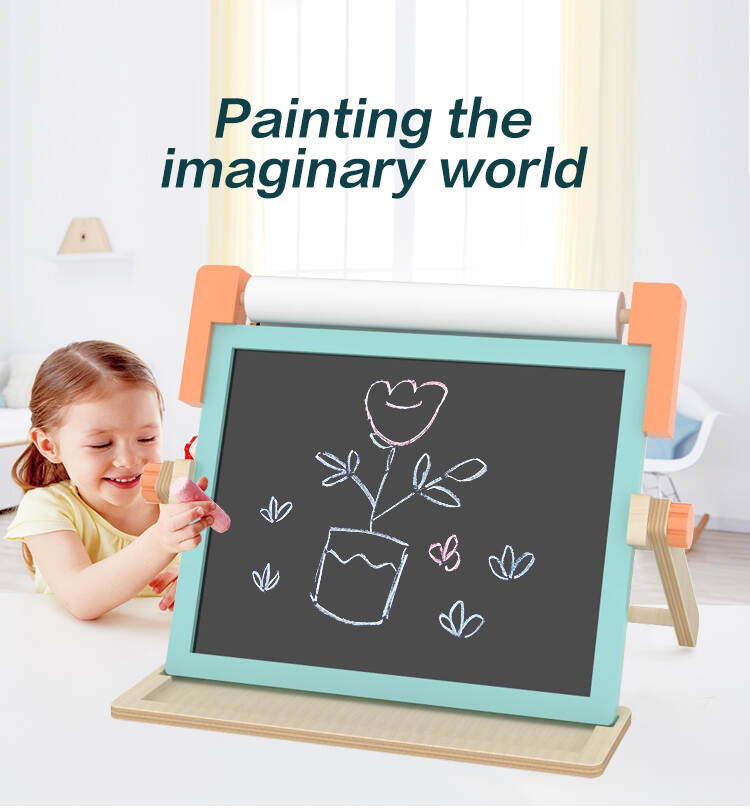 Title:
Double-Sided Tabletop Easel, early Explorer Anywhere Table Top Art Studio, Double-Sided Wooden Kids Easel Whiteboard, Chalkboard with Chalk Piece, Eraser and Magnetic Wood Clamp for Paper, double-sided magnetic Tabletop Art Easel, Dry-Erase Board and Chalkboard
Product introduction of Tabletop Easels:
The desktop easel is an art easel that can be used for painting or writing on paper, with a beautiful and durable wooden structure. It comes with an adjustable height adjustment foot for any artist's comfort. The desktop easel folds up for easy storage when not in use, and a stationary tray holds your brushes, pencils and drawing materials. The tray has a removable bottom grid, allowing you to use it perfectly for any drawing or painting project.
The desktop easel is lightweight and easy to install and remove. The legs are adjustable in height, perfect for different developmental stages, and it has two sturdy fixing panels that hold paper or fabric securely in place. Lightweight and easy to move with little hands, this tabletop easel is perfect for carrying art on the go. It folds flat for easy storage and travel, making it a convenient choice for home or school. The legs are fully folded so you can easily store or transport the easel.
If you have kids in your home or church, this tabletop easel is a great choice for them to draw, paint and write. It's great for practicing letters, numbers and shapes. Use it as a tutorial with kids who are just learning to read the alphabet, or even make lined paper by stroking along the lines! This sturdy easel made just for them will keep kids entertained for hours.
Bullet Points of Tabletop Easels:
DEVELOP MULTIPLE SKILLS :
Social Skills – This easel allows for hours of pretend play which actively develops children's social skills.
Arts Skills: Good way to practice as an artist. Draw whatever in their mind.
Presentation Skills: Excellent to express own idea.
EASY STORAGE:It's made from high-quality wood that folds flat for easy storage.
HIGH QUALITY ASSURANCE: Made of sturdy wood, child safe materials and water-based paint and durable construction to make sure exceptionally safe.
PACKAGING: Easy assembly; Frustration-free packaging to save freight cost.
OEM /ODM: Private color, logos, packaging are all available;
Artistic potential:
This tabletop easel is specially designed to help you enhance your child's artistic potential. It helps your child do better at drawing, painting and coloring. Your child can express their thoughts and ideas on paper using crayons, paints or pencils. Once they are done drawing or painting, they can hang it on the wall for display, which will inspire them to do more creative activities.
Product description:
This tabletop easel includes a dry-erase board and chalkboard, a built-in wooden paper roll holder, a long paper roll, dry-erase marker, 2 pieces of colored chalk, a felt eraser. and 36 letter and number magnets.
Our tabletop easel for kids is a magnetic dry-erase board on one side and a chalkboard on the other. Whole set stimulates imaginations and inspires hours of hands-on, screen-free play.
This portable carry Double-Sided Tabletop Easel makes an ideal gift for kids ages 3 years and up. Add the Easel Companion Accessory Set for even more creative fun.
Important Information:
Suitable for children age three years and up.