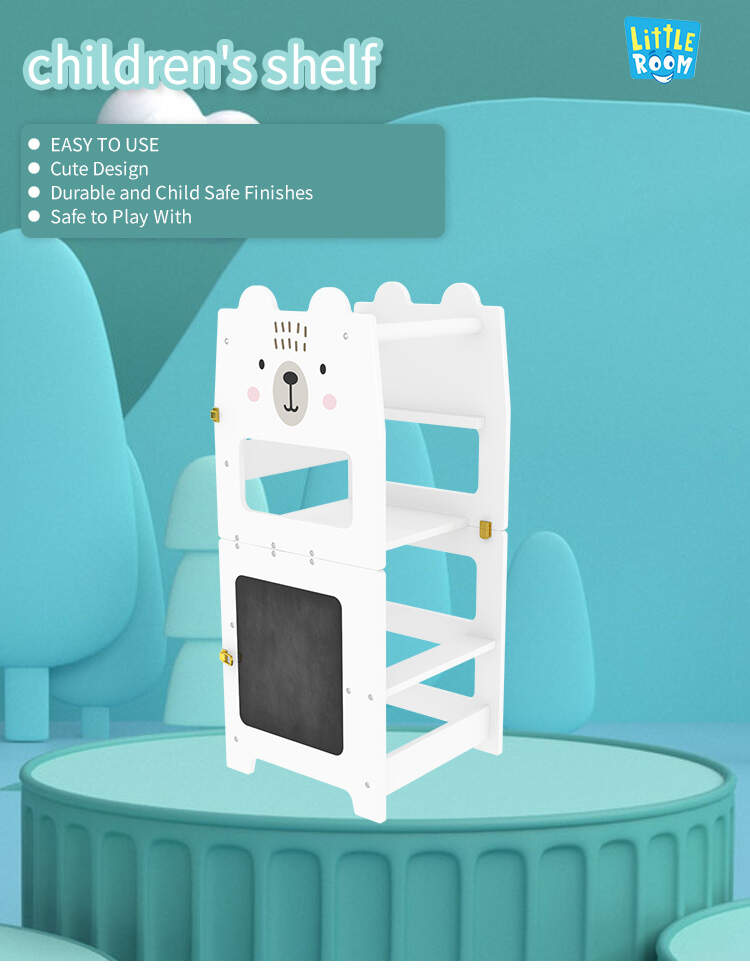 Product introduction of adjustable learning tower:
Kitchen helper is a children's safe kitchen toy! This 2-in-1 kitchen helper serves as a colorful night light and interesting kitchen utensils. It is very suitable for boys and girls aged 3-8 years. It's safe, so it's easy to clean up, and you can use it again and again. Chefs can wear hats on their heads and learn how to cook because they can role play with the ingredients stored in them. Children will like to play the role of cook again, and pretend to help prepare meals in the kitchen.
This kitchen helper is an interesting and educational toy that can help children develop fine motor skills, spatial awareness and problem-solving skills. When they play, they can stand up, sit down, open and close it, and match the shape of the holes on both sides. 2 in 1 kitchen helper is a great toy for children who like to help in the kitchen. There are two utensils, which are very suitable for learning cooking or playing! This unique and colorful kitchen set brings an exciting side to any child's playtime.
Product advantages of foldable learning tower:
Our Kitchen helpers are designed for children. This product adopts a meticulous bear design, which will help your child gain confidence and skills in cooking all his favorite recipes. With the help of parents, learn valuable life skills.
Product design:
2 in 1 Kitchen helpers are ideal for young chefs. Interesting bear version design, children will like to play this in the kitchen. These products are not boring - they have a variety of interesting features and designs. Give this product to any child and watch them laugh!
Bullet Points:
MULTI-FUNCTIONS: It is a kitchen helper, but also can be Chair and table set, even with blackboard for making notes. Toddler kitchen stool can elevate baby to counter height, teach them cooking skills to get a little helper in the near future. Make kitchen full of fun! Also, you could put it in the washing room so kids can brush their teeth by themselves.
ENJOY KITCHEN TIME TOGETHER: AMBIRD step stool can put our kids at the best height in the kitchen so that we can teach our kids cooking skills while dining, and making our kids enjoy the fun of dining
NON-SLIP & ANTI-FALLING DOWN SAFETY DESIGN: AMBIRD kids kitchen step stool add A shape design which can avoid the risk of falling down. Besides, the non-slip mat can effectively prevent the step stool for kids from sliding and shaking
MUNTIFUNCTIONAL KIDS STEP STOOL: AMBIRD kids step stool makes your kids enjoy cooking fun in the kitchen and exercise their hands-on ability. Besides, it is an excellent choice to help kids to brush their teeth by themselves
HIGH QUALITY ASSURANCE: Made of sturdy wood, child safe materials and water-based paint and durable construction to make sure exceptionally safe. We polished all the edges, added durable and smooth coating on the toddler step stool to prevent all possible injuries to children. And it has passed tip-over test.
PACKAGING: Easy assembly; Frustration-free packaging to save freight cost.
OEM /ODM: Private color, logos, packaging are all available;
Product description:
2 functions in 1 item. It is a kitchen helper, but also can be Chair and table set.
Easy switch between two functions.
With blackboard to make notes.
Important Information:
Suitable for kids age 12 - 36 months.
Adult assemble is requested.