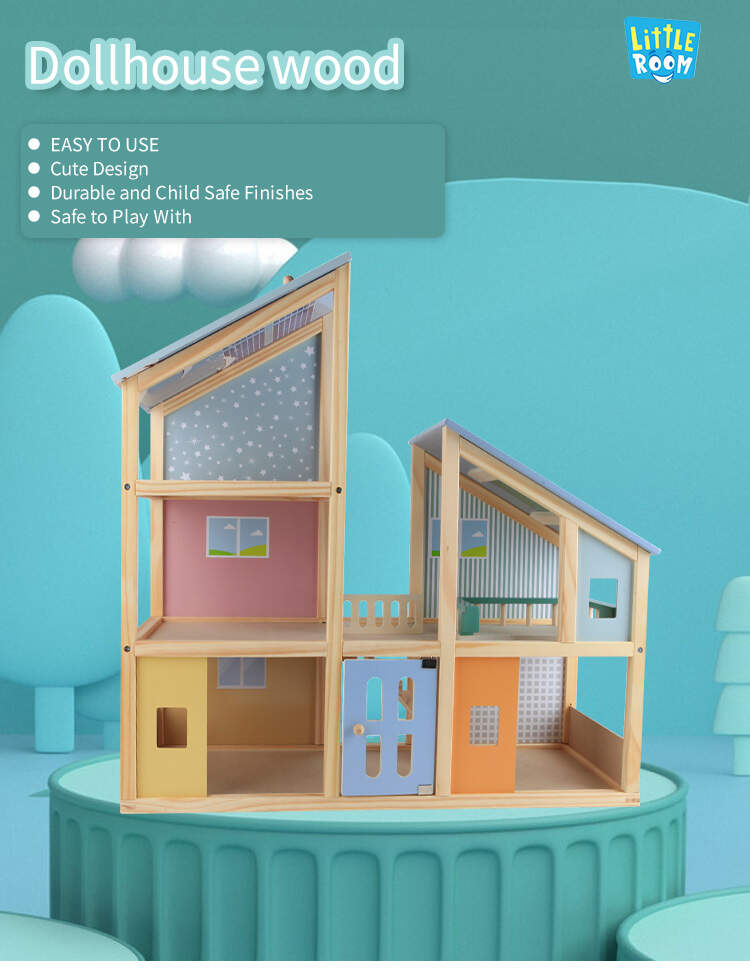 Product introduction of Wooden Doll Houses:
Assemble DIY Dollhouse with this easy to assemble kit. This set includes everything you need to build a cute little toy house, from walls and windows to shelves and furniture. You can even personalize it with your own design elements. Our DIY Dollhouse is a good way to encourage children to grow up. This charming doll house also encourages pretend games to create a world of beauty, magic and fun. It includes a lot of activities, and they will enjoy hours of fun.
Our easy to assemble DIY Dollhouse takes your child's imagination to a new level. With a variety of accessories and furniture, children can be creative when playing with this toy house set. It also has an attic where you can hide your dolls and their belongings. This DIY doll house is easy to assemble. The best part is that you can use it as an indoor or outdoor toy. You can get creative through different color schemes, or simply choose your child's favorite color. The doll house is designed with movable walls, so you can easily move items inside to increase the value of the game!
Product advantages of Wooden Doll Houses:
DIY doll house is one of the best and most popular toys for girls. For every little girl, this is a great gift idea that can bring her imagination into life. DIY Dollhouse can provide your children with hours of fun while improving their motor skills. You don't have to worry that your child will spend hours on this toy - it's fun!
Rich DIY mini toy house set and assembly: it is not a finished product, but has a variety of accessories, using a micro scale. This mini house set includes wood, cloth, thread and other accessories. It is very complete. Therefore, you can give full play to your imagination, add creativity, assemble and design your own mini toy house, meet your inner world and enjoy your free time.
Exquisite house making: each side of this miniature house is specially decorated, transparent and beautiful. It will be a beautiful and exquisite gift. On birthdays or meaningful festivals, you can give this gift to your children, relatives, friends and lovers. Especially when you need enough time and patience to complete it, no one will ignore your ideas.
Quality service: we will carefully check the Mini Kit before shipment to ensure that the accessories are intact. If you have any other problems, such as assembly steps or missing parts, please feel free to contact us and we will help you solve these problems.
Bullet Points:

OPEN-SIDED DOLLHOUSE: The Melissa and Doug Hi-Rise Wooden Dollhouse and Furniture Set features three play figures and 15 pieces of furniture. It's an open-sided, 1:12 scale dollhouse that's ideal for home or school.

FRESH, APPEALING COLORS: Our Dollhouse is decorated in vibrant colors and includes 3 floors with 4 rooms and a garage, even with balcony.
HIGH-QUALITY CONSTRUCTION: This dollhouse is made of sturdy, high-quality materials that can hold up against frequent use and everyday play.
GIFT FOR KIDS 3 TO 6: This dollhouse is a great gift for kids ages 3 to 6 years.

OPEN DESIGN - The sides and front of this 2-story dollhouse are open. This gives child easy access to all areas of the dollhouse to play and place furniture. They also provide plenty of room to add personal touches.
Amazing design with Two seasons- The roof shows two seasons, winter and summer, one side with snow while another side with flowers;
ENCOURAGES CREATIVE PLAY - This 2-story dollhouse playset encourages creative and imaginative play as child hones their storytelling skills. It also helps with spatial learning and organization skills as kids set up rooms to look like a real house.

OEM/ODM are all available: Private color, new design, OEM/ ODM packaging are all available

Product description:

Our two Seasons Doll House (furnished) is a beautifully designed dollhouse sure to provide child with endless inspiration to role play and imagination various domestic situations for their doll family.

The dollhouse can inspire your child's creativity as it has moving parts allowing child to arrange and decorate the house anyway they like.

The house will last in family for a number of years, it is durable with a solid wood construction sourced from environmentally sustainable forests. Importantly it is finished with brightly colored child safe paint.

The house also teaches valuable social skills such as communication, cooperation, encourages trust, friendship and language development.