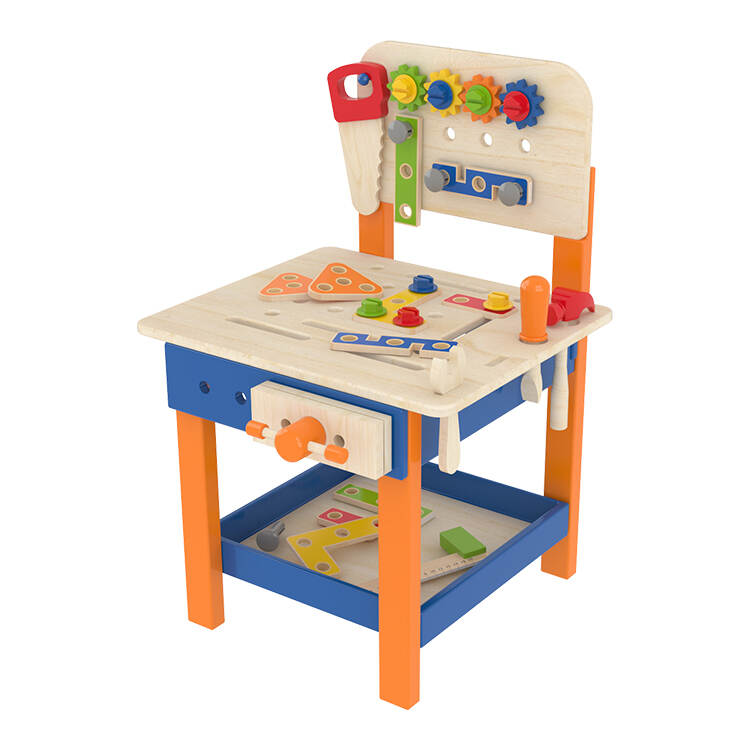 Product alias:
DIY Wooden toy;Home Workbench Toys;wood tool toys
Product description of Wooden Toy Tool:
Every young child wants to be like Mom and Dad, which is why we created the Home Workbench. With this playset, kids can pretend like mom or dad using their own tools, workspace and learning experience. Let their imaginations soar as they use this home workbench for tons of creative play! Our home workbench is a great way for kids to get creative, whether they're making models or crafting. With this sturdy bench, your child will enjoy hours of fun while learning the important skills of patience, cooperation and attention to detail.
Kids love this personalized workbench for all their pretend play needs. A great addition to any bedroom or playroom, it helps develop early math and reading skills, encourages group play, and promotes imaginative play.
Bullet Points:
REAL LIFE SIMULATION: This kids tool bench is a little builders dream come true. Kids can build, fix and rebuild for hours on end
TOY TOOLS: The master workbench contains 43 pieces including a hammer, saw, screwdriver, wrench, vice, angle, screws, nuts, bolts, gears, links and more creative parts for building
FOR A GROWING CRAFTSMAN: This tool set for toddlers is recommended for children from 3 years older and can play it while growing.
STORAGE CONVENIENCE: This toy workbench has shelves to store all your kid's tools and supplies within reach.
Product description:
Total 43 Pieces
This 43 Piece Master Workbench is a kids toolset a little builder will love you forever for, it allows your kids to build structures separately or attach pieces right on it.
It is the ultimate kid's toolbox emulating a professional work station and tools. The workbench allows your child to practice the name of the tools, describe the use of each one, and describe what he or she wants to build with it.
Design and Materials:
This realistic tools for children's hands enabling your little handyman and girl to build and fix anything they want.
43 piece kids tool set including a hammer, saw, screwdriver, wrench, vice, angle, screws, nuts, bolts, gears, links and more creative parts for building.
We regards child safety as the utmost priority. This is why the toy workbench is durable, child safe with non-toxic paint finish, and has solid wood construction ensuring the longevity of the toolset for your kid to play for years to come.
This kids tool bench provides convenient storage space and a work surface for your kid helping the cleaning up process and reduces the chances of tools getting lost.
Skill Development:
This kids wooden tool bench helps develop engineering and building skills, empowers kids to imagine and create when playing with the building tools. It helps develop fine motor skills and encourages kids to find solutions to problems.
Durable and Child Safe Finishes
The wooden toy has rounded edges and is well coated to ensure that is not sharp and completely durable for your little one.
Safe to Play With
All Little Room products are manufactured with high-quality materials, and finished with non-toxic child-safe paints.
Important Information of Wooden Toy Tool:
Suitable for kids age 36 months and up.
Adult assembly is required.